Next: 2.3 The Service Module Up: 2. The GAIA Mission Previous: 2.1 The Measurement Principle &nbsp Contents

The design of the GAIA spacecraft (Figure 2.5) was essentially driven by the adopted scanning law and by the requirement of a high thermal and mechanical stability. Additional constraints were posed by the expected budget and by the recommended use of the ESA Ariane V launcher for the satellite's insertion into orbit. Its fundamental characteristics are passive thermal control system, high level of thermo-mechanical separation between the payload and service modules, and monolithic payload module made of a high-performance material. The diameter and height of the spacecraft are 4.5 m and 3.1 m, respectively. Its dry mass is about 2000 kg, which, with about 1000 kg of propellant, gives a launch mass of about 3000 kg.

Figure 2.5: An exploded view of GAIA spacecraft. The whole spacecraft spins as a single structure around the symmetry axis (vertical in this view). This arrangement, in combination with the adopted scanning law, provides the required thermal and mechanical stability.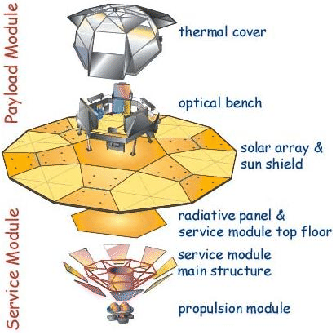 ---




Next: 2.3 The Service Module Up: 2. The GAIA Mission Previous: 2.1 The Measurement Principle &nbsp Contents Mattia Vaccari 2000-12-05