Next: 5.5 Sky Background and Up: 5. Detection and Observation Previous: 5.3 Statistical Formulae &nbsp Contents



5.4 Sensitivity of the Astros
In the estimation of an instrument's sensitivity, the transmittance of the telescope, the Quantum Efficiency of the detector and the spectrum of the observed object must be taken into account. On the basis of the data for the baseline mission design provided by Matra Marconi Space, expected photoelectron count rates for stars of different spectral types in different photometric bands were provided by L. Lindegren in a private communication. To determine the stellar spectrum most closely approximating the spectrum of a typical galaxy, a comparison between Kinney template galaxy spectra and Kurucz theoretical stellar spectra was carried out. It was thus found that a good approximation to the Kinney spectra is given by the Kurucz spectrum for a G2V star, as is shown in Figure 5.2, where the Kinney spectrum of a Sb galaxy is used for illustrative purposes.

Figure 5.2: Comparison of Kinney Template Galaxy Spectra and Kurucz Theoretical Stellar Spectra. The solid line shows the Kinney spectrum for a Sb galaxy, whereas the dotted line shows the Kurucz spectrum for a G2V star. Galaxy spectrum from [Kinney et al. 1996], stellar spectrum from [Munari and Castelli 2000].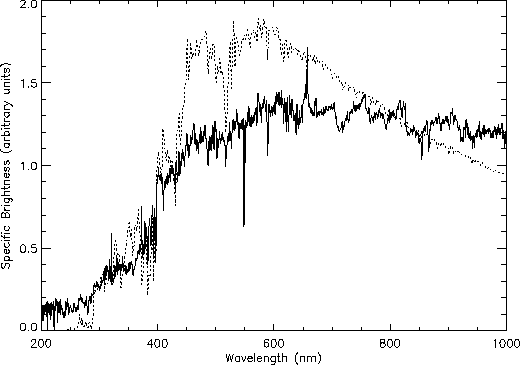 The expected photoelectron count rates for a G2V star in the

band and in the bands of the

photometric system (see Subsection 2.4.1) are listed in Table 5.1 for stars of magnitude

and interstellar extinction

.

Table 5.1: GAIA expected photoelectron count rates. Rates of detected photoelectrons in the CCDs of GAIA Astros for a G2V star in the and photometric bands. and were assumed. Count rates expressed in electrons/s. The corresponding count rates for some spectral types earlier and later than G2V are included for illustrative purposes. Courtesy of Lennart Lindegren, Lund Observatory.

| | | | | | | |
| --- | --- | --- | --- | --- | --- | --- |
| ST | | | | | | |
| A5V | 32552 | 9705 | 6780 | 4894 | 3065 | 1463 |
| F6V | 23783 | 5574 | 4872 | 4236 | 2936 | 1507 |
| G2V | 20079 | 3984 | 4096 | 3892 | 2866 | 1541 |
| K3V | 16104 | 2416 | 3208 | 3558 | 2766 | 1564 |
| M0V | 11015 | 844 | 1640 | 2470 | 2545 | 1632 |
---




Next: 5.5 Sky Background and Up: 5. Detection and Observation Previous: 5.3 Statistical Formulae &nbsp Contents Mattia Vaccari 2000-12-05