Next: 7.5 Angular Resolution and Up: 7. A Case Study: Previous: 7.3 Angular Resolution of &nbsp Contents

The number of observations stacked into a flux map, or number of scans for short, is clearly a critical factor for the quality of the resulting flux map. The improvement of angular resolution due to the increase in the number of scans is illustrated in Figure 7.4, showing the same part of the flux maps as in Figure 7.3 as it is seen in a single observation and as it is reconstructed from 10, 20 and 50 simulated observations.

Figure 7.4: Number of scans and angular resolution of GAIA BBP flux maps. The four images show the same sky region as in Figure 7.3. The upper left image shows a single observation obtained with

pixels/sample, whereas the upper right, lower left and lower right images show a flux map reconstructed from 10, 20 and 50 simulated observations, respectively, with the same sample size. The side of each image is about 2 arcsec.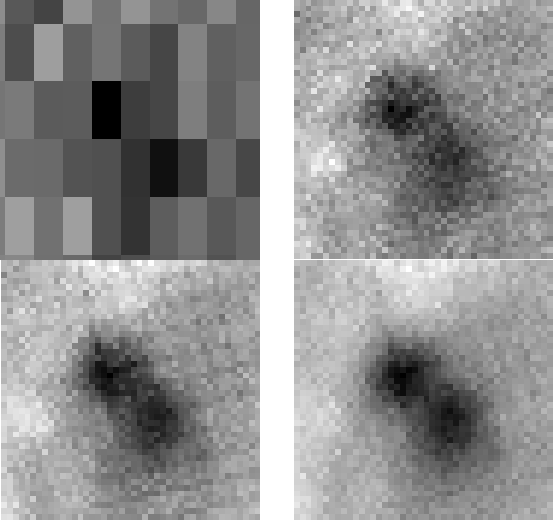 Even if the two HII regions are better resolved in the 50-scan flux map, on the whole, these images show that, at least as far as bright structures are concerned, the highest resolution allowed by GAIA PSF could be achieved with a number of scans substantially smaller than the 50 presently assumed. On the other hand, the decrease in the number of scans would obviously have a stronger impact on fainter features.
---




Next: 7.5 Angular Resolution and Up: 7. A Case Study: Previous: 7.3 Angular Resolution of &nbsp Contents Mattia Vaccari 2000-12-05