Next: 7.3 Angular Resolution of Up: 7. A Case Study: Previous: 7.1 HST WFPC2 Image &nbsp Contents



7.2 GAIA BBP Flux Maps
The flux maps obtained with different sample sizes from stacking of 50 simulated observations, i.e. with an effective total exposure time of 43.09 s, are shown in Figure 7.2. Not surprisingly, flux maps obtained with bigger sample sizes are smoother, whereas those obtained with smaller sample sizes show a conspicuous lumpiness. The increasing lumpiness is to be ascribed both to the improvement of the angular resolution resulting from the ``thinning'' of the PSF and to the increase of the readnoise due to the higher reading frequency which is required in order to read the CCD with a smaller sample size. As a matter of fact, even if, as far as bright structures are concerned, the angular resolution appears to improve as the sample size decreases, with a sample of
pixels faint features almost disappear, swamped into the readnoise. As already noted in Chapter 5, a trade-off between the angular resolution and the accuracy in surface photometry must be established.

Figure 7.2: GAIA BBP flux maps of M100. BBP flux maps reconstructed from 50 simulated observations, i.e. with an effective total exposure time of 43.09 s, for different sample sizes. Upper row:

and

pixels/sample. Lower row:

and
pixels/sample. The side of each flux map is about 16 arcsec.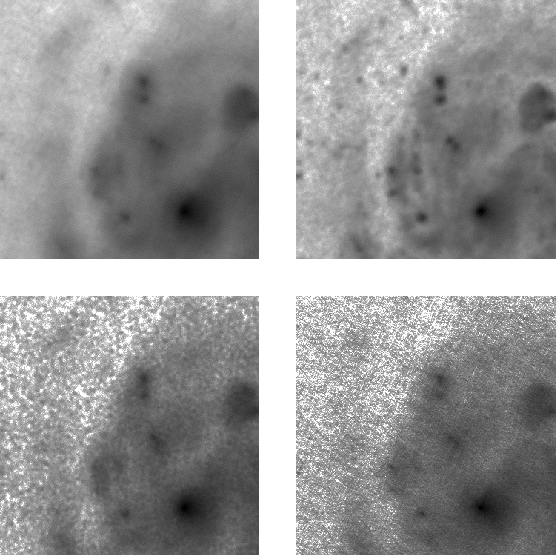 ---




Next: 7.3 Angular Resolution of Up: 7. A Case Study: Previous: 7.1 HST WFPC2 Image &nbsp Contents Mattia Vaccari 2000-12-05